Fiche technique Indelible recording Studio (French)
Microphones
Large diaphragme :
Avantone CV-12 BLA (Black Lion)
Slate Digital VMS

ML-1 Vintage édition avec plugins

émulation « Classic Tubes 3 Expansion Pack"
Neumann TLM 103
Audix CX-112
Petit diaphragme :
Sontronics STC-1S

x 2
Audix ADX51 x 2 appairés
Ruban :
Kit drums AUDIX dynamiques :
1x D6 Kick Drum Microphone
3x i5 Snare Drum Microphone
2x D2 Rack Tom Microphones
1x D4 Floor Tom Microphone
+ Shure Beta 91a (Kick)
Divers micros dynamiques AKG, AUDIX OM6, RODE NT3 pour monitoring, répétitions….
other professional microphones available as needed
16 Preamps type 500 sur console
4x BAE Neve 1073MPL
2x BAE API 312
4x APHEX J PRE 500
APHEX Dual RPA 500 (2 channels with tube output)
2x CRANEBORNE Audio CANDEM 500
1 AML type 1073
1 BLACK LION AUDIO B173 500 (type 1073)

13 Préamps hors console :
1 preamp compresseur TL-AUDIO à lampe en rack
8x preamps sur Apollo Universal Audio 8p avec totalité des plugins émulations preamps, compresseurs, channel strip, EQ, simulateurs d'amplis guitares ou basse Universal Audio
4x preamps sur Apollo Universal Audio X4
Convertisseurs 28 I/O reliés en thunderbolt 3
Universal Audio Apollo x16 : 16 I/O sans préamps
Universal Audio Apollo x4 : 4 I/0 avec 4 préamps
Universal Audio Apollo 8p : 8 I/O avec 8 preamps

connectés sur ordinateur Apple Mac Mini hexacoeurs i7 - 32 GO RAM - 500 GO SSD (édition Apple mini novembre 2020) avec disque USB-C 1 TO

+ un Universal Audio Apollo Solo connecté sur Apple MacBook Pro i7 16 GO de RAM SSD (pour faire tourner les instruments virtuels enregistrés séparément de la DAW)
Console et connectique
ARK 500 by OCEAN AUDIO (Malcom Toft workshop)
Console InLine : 16/8/2 avec 32 retours monitoring - 6 départs AUX
40 slots série 500 dont 16 slots pour préamps - 16 slots pour traitements sur tranches et 8 slots pour les bus.
Baie BANTAM de 192 points totalement reliée à la console Ark 500 Ocean (Insert, I/O, Aux, retours DAW)
+ baie Jack symétrique de 32 ponts

Box micros multi-paire

24 XLR + 8 retours casque de 12 mètres (salle principale)
Box micros multi-paire de 4 XLR + 2 retours casque de 4 mètres (salle secondaire)
Compresseurs / EQ (Série 500)
2x Lindell Audio 7x-500 vintage edition
2x Lindell Audio peq-501a

(EQ type Pultec)
2x Ocean Audio EQ 500 (EQ paramétrique standard)
1 compresseur de bus TK AUDIO BC501 (reproduction

du G bus compresseur SSL de la console 4000)
Monitoring
PMC i1BS passive avec amplification Amphion Amp 500
Focal Shape 65 active
Avantone MixCubes active
Genelec 1031A + 7073A Active Subwoofer
Casques audio de studio :
AKG K-702 (ouvert pou ingé son)
2x BeyerDynamic DT-770
2x Sony MDR7506
2x Sennheiser hd 25
D.I
1 Manley tube DI
1 BAE DI passive
Sommation / mixage
Thermionic Fat Bustard MKII (14 voies à lampe avec EQ)
DAW et plugins
Protools 2021.3.1
LUNA by Universal Audio
possibilité d'avoir sur demande d'autres logiciels DAW type Steinberg CUBASE ou Apple LOGIC PRO, Ableton LIVE

Plugins et instruments virtuels :
Tout le catalogue Universal Audio Plugins (preamps Unison, Channel Strip SSL Neve, API, EQ, compresseurs UA, NEVE, API, limiteurs, toutes les émulations de reverb, delay et de modulation)
Quasiment tout le catalogue FABFILTER (Pro EQ3, Limiter, Gate, Deesser)
Tout le catalogue SOUNDTOYS (Saturation, modulation)

SONNOX EQ, Compresseur limiteur, Inflator
Instruments virtuels UNIVERSAL AUDIO : piano RAVEL, Mini Moog, utilisable uniquement sur LUNA sur la DAW principale ou secondaire pour les claviers.
Orchestres et strings : collection SPITFIRE AUDIO Abbey Road
NATIVE INSTRUMENTS Komplete ULTIMATE 12, Kontakt
Synthétiseurs virtuels UHE (DIVA, Repro) et Heavocity
XLN AUDIO Addictive Drums 2 + XO + Triggers avec tout le catalogue de sets de batterie XLN AUDIO
ARTURIA V Collection 7
BACKLINE
Mise à disposition de tout ampli ou instrument possible (batterie, amplis guitare, piano à queue, piano électrique) sur demande 4 semaines avant la session d'enregistrement (location en sus) en partenariat avec différents magasins d'instruments de musique de Paris, Caen et Saint-Lô
Backline permanent :
Amplis guitare :
Guitares :
Fender strat custom shop USA
Basse Guild 1968 USA
ESP LP Edwards Japan
ESP Telecaster Edwards Japn
Jazz Bass Fender Aerodyne Japan
Keyboards :
Clavia NORD PIANO 3 - 88 notes touches lourdes
Piano de commande KAWAI issue d'un piano droit classique - 88 notes touches lourdes (sur demande, connecté au plugin piano virtuel RAVEL d'Universal Audio)
KORG

Prologue, synthétiseur analogique polyphonique 8 voies
KORG Wavestation EX + Divers expanders (Yamaha Motif Rack, EMU Proteus 2500)
Monitoring Keyboards : FOCAL Shape 40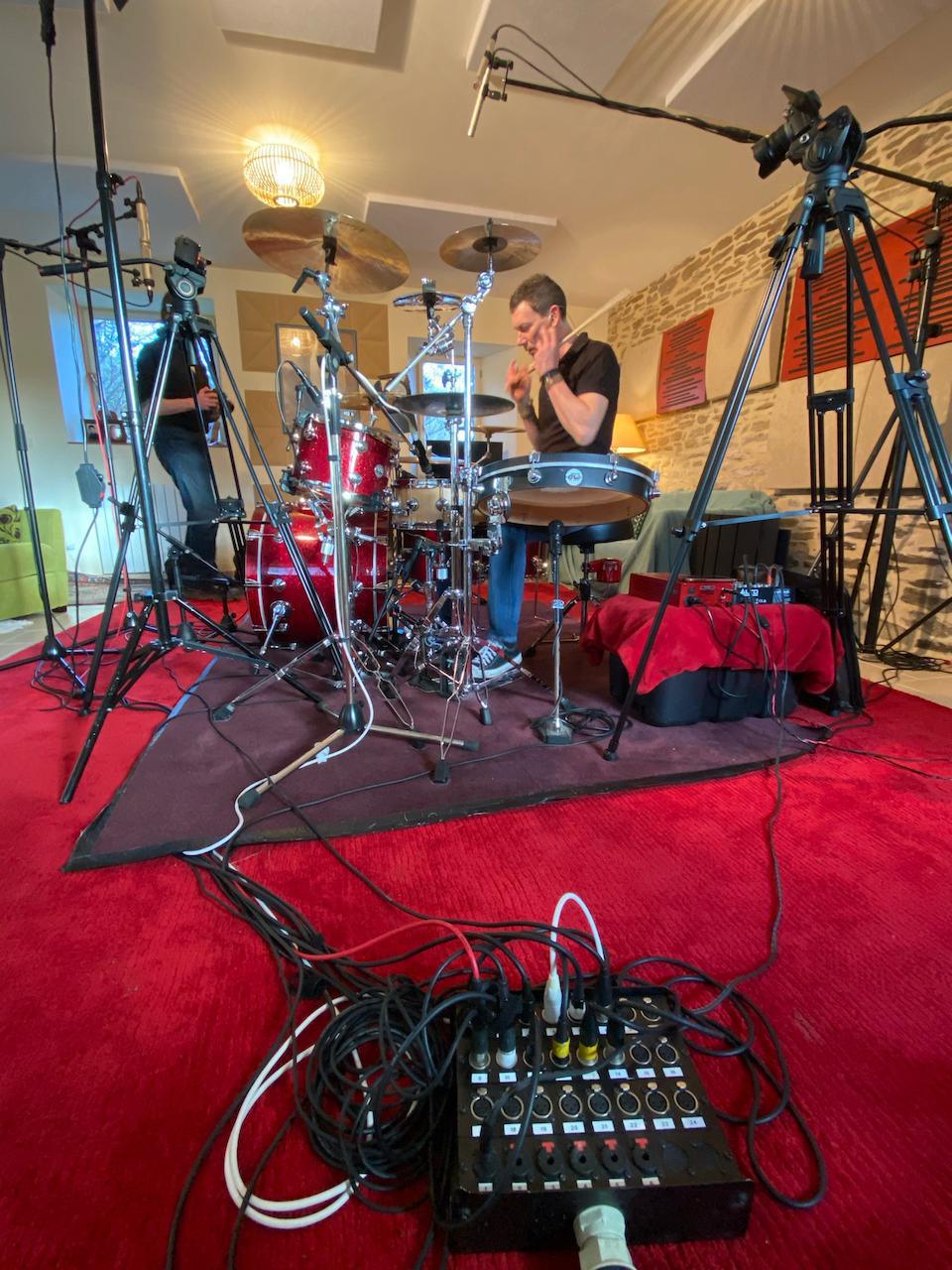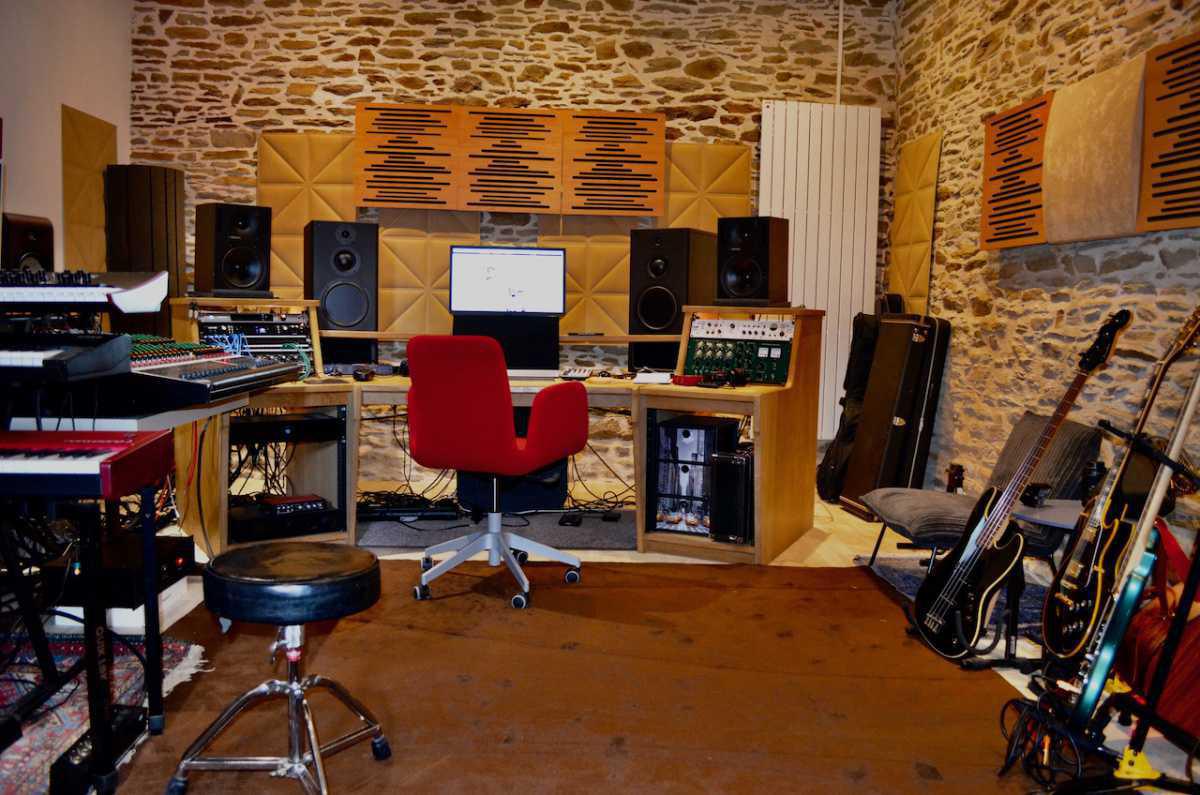 Fiche technique studio IR mai 2021